Town Mayor Mark Jepson May 2020 – May 2021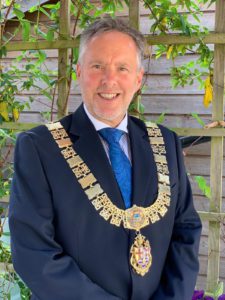 At its Annual Meeting of 20th May, Felixstowe Town Council elected Councillor Mark Jepson as the Mayor of Felixstowe for the Municipal Year 2020/21. On the same evening Cllr Sharon Harkin was appointed as the Deputy Mayor.
On accepting the office of Mayor, Cllr Mark Jepson, said: "II am incredibly proud to have become the Mayor of Felixstowe, taking over from Cllr Nick Barber who for the second time in three years has done a fantastic job; I also want to thank him for his support and guidance while I was his Deputy. I was also delighted that Cllr Sharon Harkin was elected as Deputy Mayor, Sharon has a real sense of community and will be a great asset to me and the Town Council as we play our part in helping Felixstowe out of the lockdown.
My two chosen charities for this Municipal Year are the Felixstowe Citizens Advice Bureau and Felixstowe Carnival, both in their own way make a significant contribution to the town. I am aware how hard Graham Page and his team of volunteers at CAB have been working to support families and individuals during this current pandemic, I know they have dealt with some fairly harrowing cases and on behalf of Felixstowe I would like to thank them for their dedication.
I appreciate the Carnival will not be taking place this year but so much hard work and cost had already gone into this year's event, hopefully this will pave the way to support their efforts so far and then make next year's event even better. The Carnival attracts lots of people down to the front and providing it will be safe to do so we can celebrate in style next July!
Unfortunately we have already had to cancel a number of events we were already planning, my focus will now be on helping the retail shops and tourist trade to open safely and encourage people back to Felixstowe. As the weather has been improving this has already started to happen, while we will always welcome visitors to our town we do need to ensure we all stay safe and respect the advice we are being given. A second wave would be difficult for everyone not only on a personal level but particularly businesses.
I will be supported this year by my wife Julie, although initially nervous about taking on the roles she subsequently really enjoyed last year as Deputy Mayoress and is now looking forward to supporting me and the town in whatever capacity we can.
As I said in my acceptance speech the success of my year will be gauged on the health and well-being of my family, friends and the community as a whole. "
If you would like the Mayor to attend a function in Felixstowe, or to simply ask him a question, please contact mayor@felixstowe.gov.uk
If you would like the Town Mayor to attend an event you may be organising please download and complete the Mayor Engagement Form and return to lorna.monsen@felixstowe.gov.uk.
The Mayor has a number of events in the Mayoral year. Key events for the Mayoral Year:
Mayor's Civic Service
A special church service is held to bless the new Mayor which distinguished guests from the local community are invited too.
Mayor's Civic Reception
The new Mayor welcomes distinguished guests from the local community and announces the charity (or charities) they will be supporting during their term in office.
Mayor's Civic Carol Service
A special Christmas Service for distinguished guests from the local community.
The Mayor of Felixstowe Charity Fund is a registered charity no: 1184138.
In addition, the Mayor presents the Civic Awards .