Town Mayor Nick Barber May 2019 – May 2020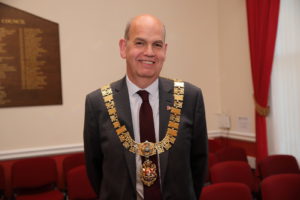 At its Annual Meeting of 15th May, Felixstowe Town Council elected Councillor Nick Barber as the Mayor of Felixstowe for the Municipal Year 2019/20. On the same evening Cllr Mark Jepson was appointed as the Deputy Mayor.
On accepting the office of Mayor, Cllr Nick Barber, said: "I am elated and feel privileged to be elected as the Mayor of Felixstowe for this Municipal Year. I'm also really looking forward to working with Cllr Mark Jepson who I know will make a great Deputy Mayor. I'd like to pay tribute to our previous Mayor, Cllr Graham Newman, for his excellent term of office which included representing Felixstowe in the far east on two occasions during the year.
I have chosen two charities to support this year; FACTS who do such a great job transport those in our local community who need to be able get to important appointments and around the town; and the Felixstowe Carnival who have such a long and rich history of running our biggest annual event. Both organisations are worthy of our support and recognition for the fantastic job they do.
I will be proud to official launch Suffolk Day on Friday 21st June and it's going to be a great year, full of events both big and small, in our flourishing town. For my part, I will be doing all I can to promote Felixstowe and will support local businesses wherever possible, particularly our town centre, which is such an important focus for our community."
If you would like the Mayor to attend a function in Felixstowe, or to simply ask him a question, please contact mayor@felixstowe.gov.uk
If you would like the Town Mayor to attend an event you may be organising please download and complete the Mayor Engagement Form and return to lorna.monsen@felixstowe.gov.uk.
The Mayor has a number of events in the Mayoral year. Key events for the Mayoral Year:
Mayor's Civic Service
A special church service is held to bless the new Mayor which distinguished guests from the local community are invited too.
Mayor's Civic Reception
The new Mayor welcomes distinguished guests from the local community and announces the charity (or charities) they will be supporting during their term in office.
Mayor's Civic Carol Service
A special Christmas Service for distinguished guests from the local community.
The Mayor of Felixstowe Charity Fund is a registered charity no: 1184138.
In addition, the Mayor presents the Civic Awards .