This year the Mayor is raising money for three local charities; 
Level Two Youth Project
Registered Charity No. 1102380      Registered Company No. 04125056  
Level Two Youth Project promotes the welfare of young people (7-25) through supportive relationships and positive experiences designed to enhance their    personal and social development.
 There Project provides a range of services for ALL local young people – from daytime provision supporting work with young people at risk of exclusion from school, young unemployed, and teenagers in need of support; weekly school-based drop-in sessions at Felixstowe Academy (to be expanded out to the 7 local Junior Schools); after-school and holiday activities, and the promotion of health and wellbeing.  Level Two's youth hub  includes facilities for this as well as social activities, a creative arts room, I.T. facilities and a kitchen area where young people can learn to cook.  For more information please visit their website  www.leveltwo.org
F.A.C.T.S.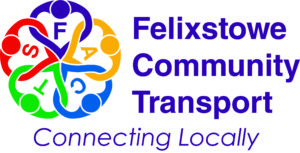 FACTS is a Community Transport service devoted to helping the infirm, vulnerable, elderly, disabled and mobility challenged. Plus those in Felixstowe and the surrounding villages who may not have regular access to public transport.  They help and assist them to get away from the four walls of home, go to the doctors, dentist, opticians, care centres, church, clubs, shops and meetings. Their Mini-buses are a well known sight around Town as they cater for more than 1500 regular users each month. Many of whom regard FACTS as their window to the outside world. For more information please visit their website  www.factsbus.org.uk
Felixstowe & Walton United F.C.
Registered company number is 10076800.
The 'Seasiders' provide footballing opportunities for around 300 players and are represented by 21 boys and girls teams ranging from Under 6's to U18's and through to the senior side playing in the Thurlow Nunn Eastern Counties Premier Division and competing in the FA Cup and FA Vase each season.
The volunteer run Club is based at the  Goldstar Ground in Dellwood Avenue, Felixstowe and has recently completed a major project to replace their dilapidated pavilion with a new purpose built complex – thanks to various grants and their own fundraising, enabling continued growth and securing the future of the Club that plays such a vital role to so many in the community.  For more information please visit their website  www.felixstowefootball.co.uk