Civic Awards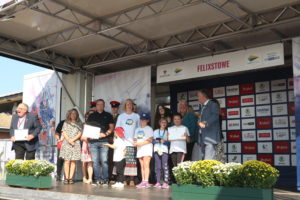 Special contributions to the community made by individuals, young people and organisations are recognised by the Town Council through its annual Civic Awards scheme.
Due to coronavirus restrictions the Awards had to be postponed from its traditional date in May. However, we are delighted to announce that we will be holding the Awards presentation at part of the FelixFest event on Saturday 9th October.
The Civic Awards are an opportunity to celebrate those in our community who have voluntarily gone the extra mile to support others and make a difference to life in Felixstowe…
Tell us who your community heroes have been over the past year and nominate them for one of the following Awards: (Nomination form in the link below)
Mayor's Awards: Presented to up to 5 local people for their personal contribution to the community.
HMS Ganges Youth Trophy: Presented to a local young person (aged 21 or younger) or organisation supporting young people in Felixstowe.
The Community Award: Presented to recognise the contribution to the community by a local organisation.
Nomination forms are available here
Complete entries should be emailed to Sue Faversham, Civic Events Officer, sue.faversham@felixstowe.gov.uk or returned to Felixstowe Town Council, Town Hall, Felixstowe IP11 2AG by the closing date of 20th September 2021.
The Town Council has been making Civic Awards for many years. Please see here for a list of previous Awards Winners: Award winners as from 2002
Civic Awards Winners – Community Heroes 2021
Felixstowe Town Council was privileged to recognise the winners of the 2021 Mayor of Felixstowe Civic Awards on the podium for The Women's Tour on Saturday 9 October. After the difficulties of the pandemic, it was wonderful to recognise and reward some of the individuals and organisations behind the fierce community spirit that underpins the town.
To find out more about about the winners of the 2021 Civic Awards, read below.
Mayor's Awards
Joan Rich
Joan Rich is a deserving winner of a Mayor's Award. Joan walked laps of Allenby park during the first national lockdown to raise money for the NHS. Joan's daughter, Diane, encouraged other people to join Joan's circuits. She was accompanied by schoolchildren, fellow nurses, military police and eventually by the media. By September of 2020, Joan completed 102 laps of Allenby park in time for her 102nd birthday on September 11th. In total, she raised more than £35,000 for the NHS. Not only did Joan raise money for the NHS, but she raised the spirits of the Felixstowe community during a difficult time. Pictured below is Ruth Dugdall, who nominated Joan, attending to collect the award on her behalf.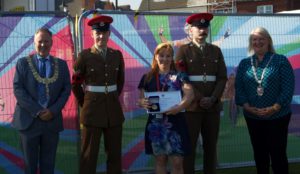 Sam Phillips
Sam Phillips is the winner of a Mayor's Award for pioneering 'Dare to Dip'. Dare to Dip is a local community of cold-water swimmers with the aim to improve member's mental health. The community was formed after Sam set himself the challenge of heading into the North Sea every day for a year. These morning dips were the formation of a safe space for so many. His nominator, Kayleigh Norris, superbly illustrated how Sam has helped to foster body positivity in those who took part.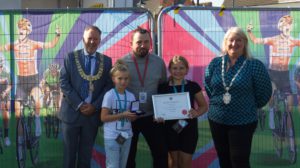 Sally Gallant
Sally Gallant won a Mayor's Award for her coordination of the Felixstowe Memory Lane Dementia Support Group. The Support Group are celebrating their fifth anniversary this year. Sally's commitment and support in an entirely voluntary capacity has provided support to so many people. The group is a much-valued outlet for members to share information and experiences, to strike up friendships and to find out more about dementia support from local dementia services. Sally's work has been fundamental to the operations of Memory Lane since its inception. During the difficulties imposed by the pandemic, Sally took steps to keep the group connected via zoom. Sally then restarted Memory Lane on 2 July 2021.
Jackie Fincham
Jackie Fincham won a Mayor's Award for her role as a Voluntary Christmas Day Coordinator at the Salvation Army. As part of her role, Jackie provided a fantastic Christmas lunch for over 80 people. With her keen eye for detail, she ensured that guests had the best possible experience. Undeterred by restrictions imposed by the pandemic, Jackie delivered Christmas dinner to people's doorsteps. In otherwise isolating times, she ensured that as many people as possible felt connected and cared about on Christmas Day.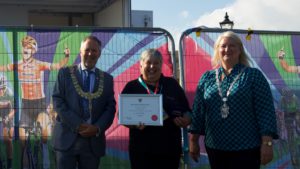 Reverend Andrew Dotchin
Reverend Andrew Dotchin is an invaluable member of the Felixstowe community. In the early stages of the pandemic, Reverend Dotchin pioneered the Free Parish Pantry. This initiative has since expanded and the church is open from 10-4pm every to provide free food, collected from various local businesses, to those in need. Reverend Dotchin goes above and beyond to ensure that the Parish Pantry is well-stocked and that those using its services are always provided for.
HMS Ganges Youth Trophy
Yasmin Baratt
Yasmin Baratt is the winner of the HMS Ganges Youth Trophy 2021. Despite the fact that she is only thirteen, Yasmin embarked on a series of projects whilst self-isolating during lockdown. Yasmin created 'Yasmin's Cakes and Bakes' , an online community resource providing step-by-step recipes and photographs. Yasmin then formed a recipe book, creating recipes from as far away as America. Yasmin has since developed a website with over 300 followers. Yasmin also organised another fantastic initiative: 'Felixstowe Lockdown Penpals' – a Facebook page to encourage people to write to each other during the pandemic to reduce loneliness. She also utilised her sewing machine to craft handmade facemasks for her friends and her Mum, who works in a hospital.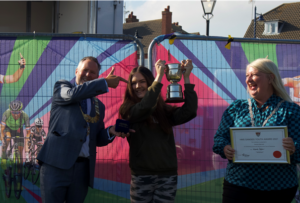 Community Award
Litter Free Felixstowe
Litter Free Felixstowe is also a deserving winner of a Mayor's Community Award. Organised by Debbie Bartlett, Litter Free Felixstowe is a true community presence in our town. Before and even throughout the pandemic, Litter Free Felixstowe continued, tirelessly, to clear plastic and litter from our streets and beaches. Litter Free Felixstowe is not only about clearing plastic waste and litter from our town – it is a conscious movement to increase awareness of personal responsibility, connecting with schools, businesses and many other organisations to educate everyone to be more proactive and environmentally conscious.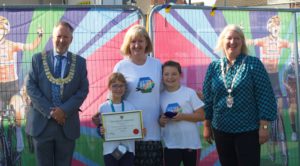 Felixstowe Helping Hands
Felixstowe Helping Hands is a deserving winner of a Mayor's Community Award. Darren Aitchison and Jackie Clarke attended the ceremony to collect the awards on behalf of the organisation. Darren's initiative established Felixstowe Helping Hands . Felixstowe Helping Hands rapidly became a critical source of assistance to the citizens of Felixstowe during the difficulties of the pandemic. With a vast reach throughout the community, Felixstowe Helping Hands saw over 500 people register as volunteers. 600 people were assisted with tasks, such and shopping, and over 1200 sets of medication were delivered to those in need. Felixstowe Helping Hands truly exemplifies Felixstowe's community spirit and the sense of genuine care that our citizens regard one another with.